"Build it, and they will come"
Or at least that was the early thinking around websites. But what history has shown us is that just because you've built a website doesn't necessarily mean anyone is going to come or give a crap.
Coke's decision to abandon the tried-and-tested formula of building one-off campaign websites and driving traffic towards that with massive advertising campaigns is perhaps the best proof of that.
Instead, Coke will reinvest to expand their social media presence on YouTube and Facebook to go where the people are rather than forcing them to go to it.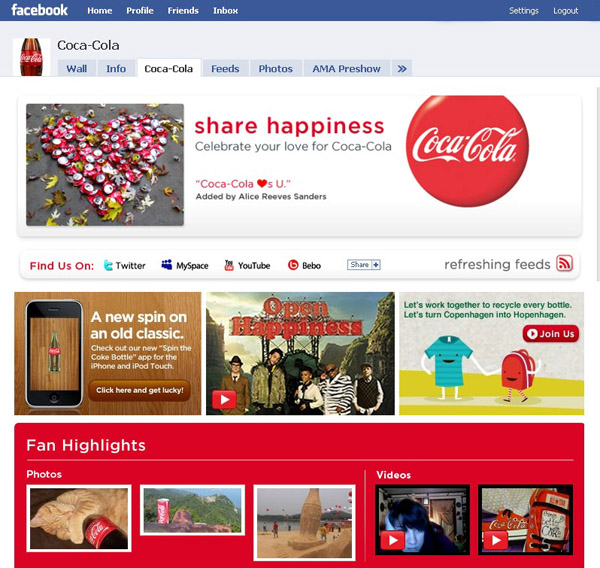 Pardon the interruption
This is a great move by Coke.
Instead of having an expectation that customers will type in a URL to visit their site, they are going where their customers are already playing thus causing the least amount of interruption. It's a sign of respect that Coke understands how their customers behave and are willing to play in there too rather than forcing customers to come to them.
The web also isn't getting any less crowded with well over a bajillion sites (at a guess), a hefty portion of which probably lie dormant. Especially since most campaign-specific sites are typically neglected and rarely updated once a campaign has run its course. Sure there are long-tail benefits of having a campaign website, but it's far more effective to be where your customers are.
It's clear that there is some real strategic thinking on Coke's part about how social media can deliver against their business objectives and that social is no longer a novelty but a serious marketing tool.
More bang for your buck
Also on a side note, if you want to talk about accountability (not that Coke need to watch their pennies), it seems to be a better allocation of Coke's resources to focus on building lasting relationships on a relatively inexpensive platform rather than plow wads of dough into what will most likely amount to a temporary engagement.
N.B. I'm in no way saying you should abandon your main website in favour of a Facebook fan page. Having a website that you can call your own to illustrate who you are and how you think outside the confines of someone else's platform is a critical part of any organisation's digital strategy.